Equipments for ganban-yoku

KIHOSEKI, TENSHOSEKI, BLACK SILICA, etc. are often used as a ore of slabs of bedrock bathing.
The most important point to choose the stone is the wavelength of far-infrared rays.
The water molecules resonate with the light with a wavelength of 6.27 micron. Our body is constituted with about 70% water and others. So, we think this 6.27 micron far-infrared rays is the key factor. KIHOUSEKI emits this 6.27 micron far-infrared rays very strongly.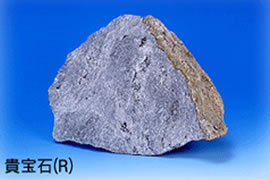 KIHOUSEKI 貴宝石(R)
The key of a good bedrock-bath is how to produce an effective environment for human bodies.This environment is made by temperature, humidity and ion balance.
- Temperature
Floor heaters and tube heaters are used for temperature control.
MJP Co., Ltd. can offer the floor heater designed only to Ganban-yoku.
Room temperature is raised with the far-infrared tube heater which can carry out automatic control with a full automatic room temperature control device.
- Humidity
MJP Co., Ltd. can offer the humidifier which makes 2-3 micron fog with a number of negative ions from supersonic vibration.
The room humidity can be adjusted by 1%, and also be washed automatically. It can reduce personnel costs and keep the ganban-yoku room effective.
- Ion balance
The bedrock-bath needs to make space with more negative ions than a positive ions.
MJP Co., Ltd has studied many years to make a scientific true space that has negative ions more than positive ions.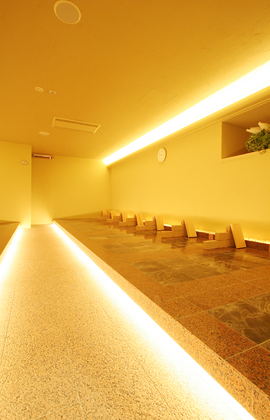 KIHOUSEKI ganban-yoku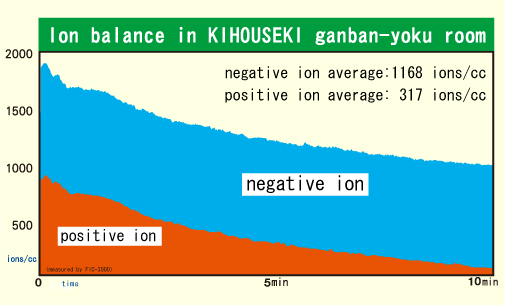 Ion balance of KIHOUSEKI ganban-yoku room
This graph is the proof that there are more negative ions than positive ions in KIHOUSEKI ganban-yoku room.
In addition
We can advise about ganban-yoku from the ahievement of 140 facilities in Japan and 12 facilities overseas.